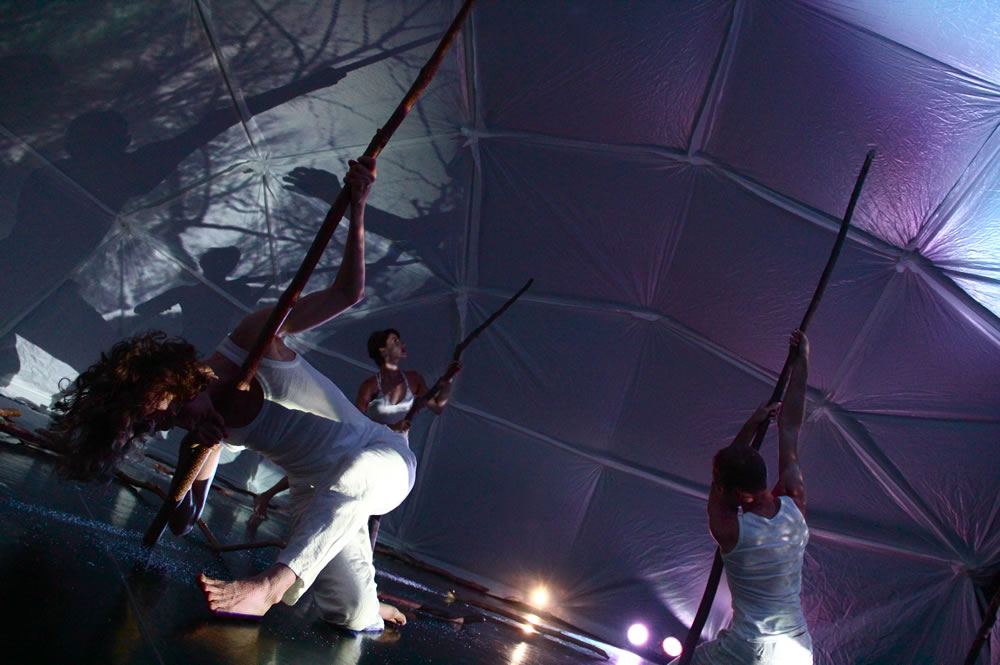 Information about Merian Soto's "SoMoS"
Choreographer Merián Soto presents the culmination of her seven-year Branch Dance Series with the Center-funded SoMoS, bridging nature and the urban landscape, in the North Philadelphia barrio on October 12, 2012, as part of Taller Puertorriqueño's free performance series, Café Under the Stars: Spotlighting the Arts in El Barrio.
SoMoS will create a meditative nature carnival out of a concrete parking lot at 5th and Huntingdon Streets, with performance spaces and multimedia displays for winter, spring, summer, and fall. Fifteen dancers are spread out throughout the performing areas in numerous combinations, including core dancers and co-choreographers 2012 Pew Fellow Jumatatu Poe, Olive Prince, Marion Ramírez, Beau Hancock, and Jung Woong Kim.
The culmination of Soto's Branch Dance Series, SoMoS is a large-scale event, with three geodesic tents transformed into performance spaces. Seasonal video- and audio-scapes are projected on and about dancers performing the hypnotic, transfixing branch dances—an intensely intimate dance that follows the gravity and shifting balance of nature. Shadows of the dancers are projected against the walls of the tents. Visible from the outside, these artful shadows create their own performance experience and yet another viewpoint for audiences. The fourth performance space will be the outdoors, with giant video projections of nature in extreme close-up upon the walls of adjoining buildings.
"I loved the vastness of the parking lot, a place to work with giant branches. I imagined large projections that would attract audiences from afar. I imagined a series of water-globe like spaces where audiences could enter," says Soto.
This performance spectacle, a sensory enchantment under the night sky, promises to rekindle the audience's connection to nature. A free event, audiences will be able to explore the performance areas at their own pace, allowing their senses to be transported into a completely different environment. SoMoS aims to bring the audience en masse into an experience akin to a dream, a reverie on nature and our physical connection to it.
"SoMoS is providing an opportunity to expand branch dance choreography," Soto says. "There is new hot duet work, work with balancing multiple branches at the same time, and much more."
–Pew Charitable Trusts. University of the Arts